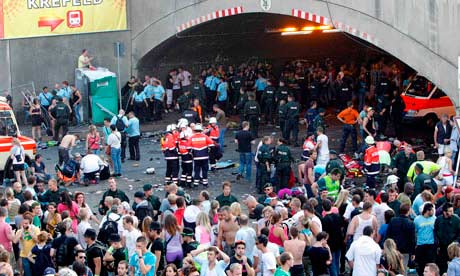 The goal of this article is to stress the importance of being aware of the dangers of large crowds.

Wikipedia has a good article on "The Love Parade" tragedy: http://en.wikipedia.org/wiki/Love_Parade_stampede

This is a horrible incident but it is not the first time something like this has happened in history. Back in 1971 there was a very similar incident at a soccer game in the UK:

From Wikipedia: http://en.wikipedia.org/wiki/Rangers_F.C.


"As the 80,000 strong crowd was trying to disperse at full time, many fell down the stairway at the Copland Road end of the ground. Their momentum led to large scale crushing and 66 people died. It was initially thought the crush was caused by Rangers fans rushing back up the stairwell after the equaliser; however, a later enquiry said that the crush was likely to have happened ten minutes after the final whistle and to have been triggered by someone falling on the stairs."
If you are in a large crowd be aware of the dangers and always be ready with a plan of action if something goes wrong. Better still, if you sense a possible danger stay out of crowds where large pressures tend to build up to the point they become dangerous.
Festivalgoers killed in stampede at Love Parade in Germany

"I've never seen anything like it," he said. "There were 25 people lying in a heap. I screamed – people could no longer get any air."

http://www.guardian.co.uk/world/2010/jul/24/love-parade-festival-tunnel-stampede
Loveparade 2010 Duisburg - Massenpanik
WARNING: Contains graphic real world footage :::::
Menschen versuchen verzweifelt von der Massenpanik auf dem Loveparade-Gelände zu flüchten.
Love Parade 2010 Duisburg Tunnel 19 killed
::::: WARNING: Contains graphic footage of a real World event :::::
Love Parade 24/07/2010 19 dead people -
INFORMATION NUR FAMILIENMITGLIEDER: Telefon: 0203/94000
Ten people were killed Saturday when chaos broke out at a music festival in Duisburg, Germany, police said.
It's unclear what sparked the mass panic at "Love Parade 2010" as people tried to enter the festival site in the early evening, police spokesman Werner Friese said.
Fifteen others were injured, he said.
The festival was supposed to take place from 2 p.m. (8 a.m. ET) to midnight. As of 6 p.m., the entrance remained closed and people inside the venue were leaving the area.
German Love Parade Tragedy Investigated As Possible Manslaughter

"The investigations are concentrating on the allegation of negligent manslaughter and negligent bodily harm," said Rolf Haferkamp, a spokesman for Duisburg prosecutors.

Read the full article:
http://www.mtv.com/news/articles/1644400/20100726/story.jhtml