For more LG15 CHARACTER posts : Follow the "Talk to..." link on the right --->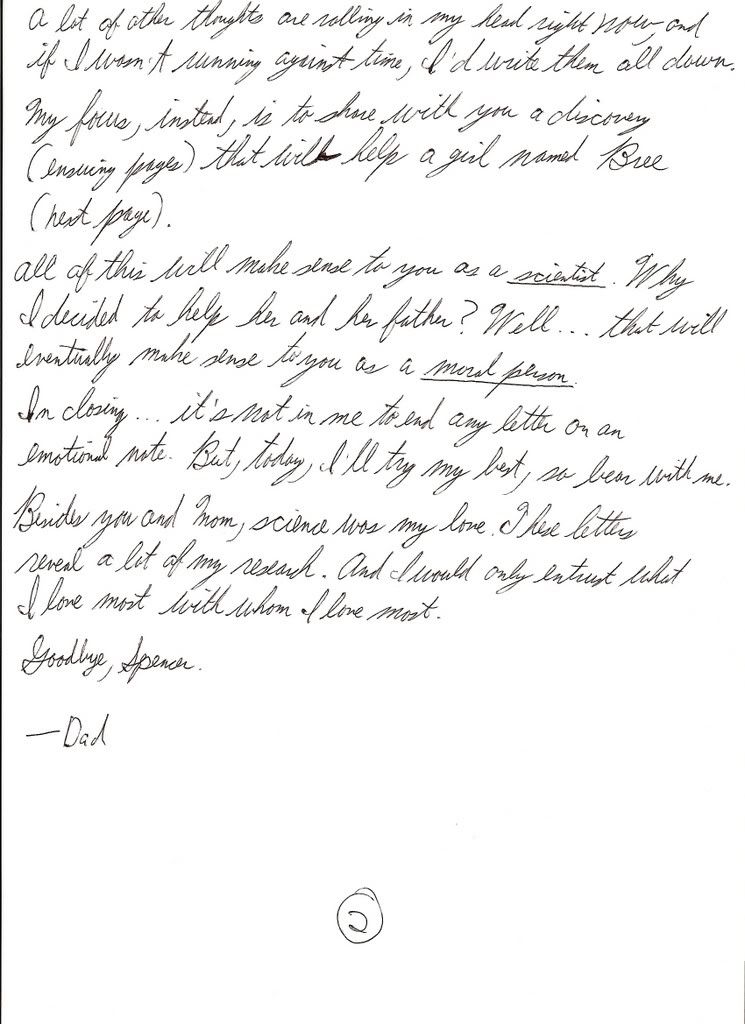 danielbeast says....
So yesterday was pretty eventful. Things have been a little weird between Sarah and I since her "stay away from me you clingy beast" vid. Girls. Can't live with 'em... can't live without 'em. Anyway, after you all figured out the clue from Bree's last HoO (i.e., the yacht club) we made a plan to go there... with or without Jonas & Taylor. As much as they wanted to be there with us, they just couldn't make it back in time.
As much as I don't want to admit it, if it weren't for Sarah, we'd of never found that box. I sure didn't notice that rope. But I'm basically speechless as to what happened next. I don't understand how it happened. Our first new lead in days and it goes straight into the water. I know she didn't mean to, but man what a moron. Ok, moving on....
We rescued the papers, but we can't really decipher them. There was, however, a note to Spencer that didn't fall in. It's from his dad and I thought he'd want to see it. I know I would.
Spencer, if you're reading this, please help us. You're all we've got.
---
TOSG Posted:
Sat Jul 07, 2007 3:38 pm
Here's a transcript for everyone who - like me - had some trouble with the handwriting.
Quote:
December 15, 2006
I hope this letter finds its way to you, Spencer.
If so...then sorry about the legibility (or lack thereof) of my handwriting. Like doctors, scientists achieve diminishing returns when it comes to penmanship. Especially after one has passed the age of 50! That said, your reading this letter means that something dire has happened. In particular, the type of research I have been conducting has been in question. And my life has been - to put it delicately - compromised.
I have many more letters attached to this that should explain why, but for now, I just wanted to write down some memories, some final thoughts. It was beneficial for me to write them down because - frankly - I needed to clear my head with a little happiness. So, without further ado:
1: 1989 - Spencer, age 4. I took you to see Batman and you dug your face into my armpit when Jack Nicholson's "(?) teeth" flew out of his mouth after being hit by Michael Keaton;
2: 1991 - Spencer, age 5 3/4. I had to pick you up early from school after you told the school nurse that your stomach was experiencing "reverse peristalsis;"
3: 1996 - Spencer, age 11. Our last vacation with Mom. Florida was too humid. But it was great to be together;
4: 2001 - Spencer, age 16. Dropping you off for your first week at UCSD. Proud doesn't even begin to describe how I felt/feel.
A lot of other thoughts are rolling in my head right now, and if I weren't running against time, I'd write them all down.
My focus, instead, is to share with you a discovery (ensuing pages) that will help a girl named Bree (next page).
All of this will make sense to you as a scientist. Why I decided to help her and her father? Well...that will eventually make sense to you as a moral person.
In closing...it's not in me to end any letter on an emotional note. But, today, I'll try my best, so bear with me.
Besides you and Mom, science was my love. These letters reveal a lot of my research. And I would only entrust what I love with whom I love most.
Goodbye, Spencer.
- Dad
http://lonelygirl15.com/forum/viewtopic.php?p=437485&highlight=#437485