LonelyGirl15 Creator Miles Beckett and KateModern head writer Luke Hyams are headed to Australia next week for a conference taking place in Sydney (Oct. 31) and Melbourne (Nov. 1).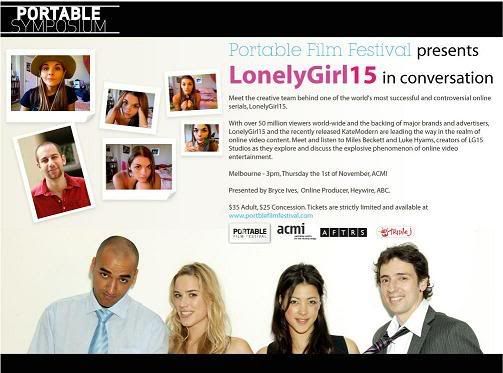 full size pic

http://youhavechanged.wordpress.com/2007/10/23/lonely-girl-15-federation-square/:


I am going to be hosting a public forum at Federation Square with the creative team behind one of the world's most successful and controversial online serials, LonelyGirl15.

With over 50 million viewers world-wide and the backing of major brands and advertisers, LonelyGirl15 and the recently released KateModern are leading the way in the realm of online video content. Meet and listen to Miles Beckett and Luke Hyams, creators of LG15 Studios as they explore and discuss the explosive phenomenon of online video entertainment.

The forum is happening on Thursday the 1st of November, from 3pm at the Australian Centre of the Moving Image.

$25 Adult, $20 Concession. Tickets are strictly limited and available at http://www.portablefilmfestival.com
I doubt Miles saw this advert before its release, as it has five pictures of bree and no other lg15 cast members!!! And if Miles is traveling to Australia, will a new series -- say OutbackSally, be announced soon?