From Anchor Cove
by curiousgeorge on Sat Dec 29, 2007 12:26 pm

And now for something completely different, cast member Melanie Merkosky (Jennie).
http://forum.anchorcove.net/viewtopic.php?f=23&t=666#wrap


Melanie Merkosky is the actress who plays the role of Jennie in the lonelygirl15 web series. Her full name is Melanie Joanna Merkosky. She was born and raised in Calgary, Alberta, Canada. She is the oldest of three children. Currently, she splits her residency between the East and West coasts of Canada.
Her first foray into the performing arts came at the age of 3, when her mom and dad noticed that she liked to watch T.V. in a perfect Russian split position on the floor. Her mom registered her in her first dance class, Baby Ballerinas. Dancing became her passion for the next 20 years as she went on to train, compete, and perform in many productions in jazz, ballet, tap, hip-hop, lyrical and swing among others.
At the age of eight, Melanie was accepted into the Young Canadians School of the Performing Arts, with whom she would continue to train and perform for nearly a decade. While a member of the Young Canadians, Melanie received the Amoco Canada Award for Outstanding Achievement. She also received numerous, nationwide, awards for her dancing including, Most Promising Dancer and the Triple Threat Award. Throughout her formative years, Melanie took formal training in voice, cultivating her skills as a singer. She was also a competitive gymnast, training and competing in all forms of the sport.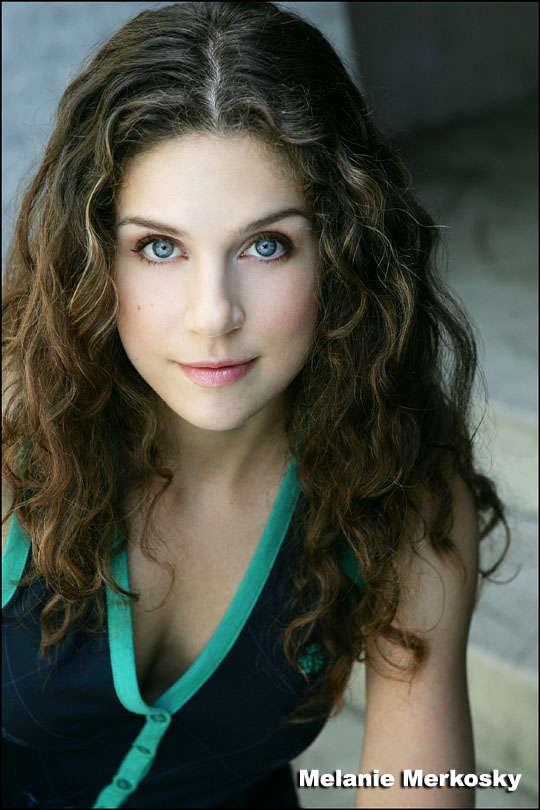 Performing with The Young Canadians on the Grandstand Stage, in front of ten thousand people, fuelled Melanie's desire to pursue performance as a career. At the age of twelve, Melanie made her professional stage debut in a production of Evita for Theatre Calgary. Continuing on to be a part of several great productions there, led to her work in many theatres across Canada, including the acclaimed production of "Anne of Green Gables" at The Charlottetown Festival. In 2002, Melanie left Canada to go on the road with the First National Touring Company of "Mamma Mia!", where she had the good fortune to perform many different roles.
Acting and performing for film and television has always been something of great interest to Melanie. While still living in Calgary she landed small roles in Honey, I Shrunk the Kids the T.V. series, and the T.V. movies Noah and The Sheldon Kennedy Story. She has continued to pursue performance in this medium, in both Vancouver and Toronto, and it has enabled her to meet and work with some of her biggest idols. Working on the series Slings and Arrows, she had the opportunity to perform original songs written by the Tony Award winning duo Greg Morrison and Lisa Lambert. Melanie hopes to perform and be creative artistically for as long as she possibly can.

Melanie Merkosky on LGpedia

LGpedia needs your HELP: Ways To Help


With friends like Melanie, who needs anything else?