"Also, Jessica, Yousef, Jackson, Lexie, Becki, and Katherine all deserve to be on the Top 25 Web Celebs."

- Amanda

http://inside.lg15.com/2007/12/21/forbes-article/


Amanda Solomon Goodfried is the Supervising Producer of Lonelygirl15. In this capacity, she oversees all aspects of physical production including location scouting, cast and crew scheduling, set design, props, and line production. She also runs the Interactive Department, taking responsibility for in-character chat/forum, youtube and myspace pages, and live events. Prior to joining Lonelygirl15, Amanda, an attorney, worked in the business affairs department at the Creative Artists Agency (CAA) in Beverly Hills, a Hollywood talent agency.
Amanda received a B.A. in Political Science from the University of California at Berkeley and a J.D. from the University of Miami. Prior to working at CAA, she was an agent trainee at Abrams Artists Agency, and worked at several production companies and in the LA County District Attorney's Office. She also did fundraising for Al Gore's 2000 campaign with the Democratic National Committee and worked in Family Services at the Miami Dade Superior Court.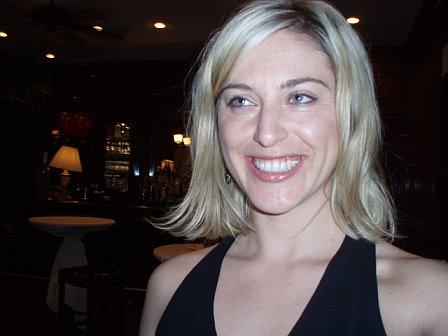 Amanda is married to Greg Goodfried, an Executive Producer of Lonelygirl15 and Founder/Co-President of Telegraph Ave. Productions. She receives inspiration from overcoming great odds, redemption, Jane Austen, The BBC, her cats, and the unconditional love and support of her husband. Amanda has a passion for travel, and says that if she weren't working on LG15, she would like to be a "professional tourist." From every city she visits, Amanda collects a bottle opener. Her most unique one is of Joseph Stalin, which she bought in Budapest.


Amanda Goodfried as "Lucy" in episode The Human Ransom.
It was revealed by Wired Magazine, that Amanda was brought on to the project to portray Bree online. The Creators felt that they needed a female to type responses as Bree, and knew that they could trust Amanda. When users send e-mail or send messages to Bree on YouTube or MySpace, it is usually Amanda who responds. This is how the connection to Creative Artists Agency was made. Amanda responded to messages while at work and the IP address of CAA was discovered within one of these messages.
Comments on the MySpace wall of Amanda from the band The Jane Doe's were also discovered by fans, who concluded that she helped the band get their song in the Swimming! video.
Amanda has received credit for helping write the story since the video Bree The Cookie Monster. She was briefly a leading suspect for the role of Lucy, but this speculation was dropped after it was revealed that Lucy was played by Jessi Williams. However, after the release of The Human Ransom, The Creators clarified that while Jessi Williams had played Lucy for a while, she was now portrayed by Amanda, and had been ever since her appearance On The Run.
It was also later revealed that the actress portraying Jules was Amanda's sister, Shannon Solomon. Additionally, the actress that portrayed Bree's mom, Allison Probert, is believed to be Amanda's cousin.
In addition to her roles as producer and head of interactivity on lonelygirl15 and co-executive producer for KateModern, Amanda is the writer, director, editor, and producer of the Nikki Bower videos.


Amanda on LGPedia.

LGpedia needs your HELP: Ways To Help