Someone's outside watching my house. I don't know what to do.

------------------------------

JOIN THE WHATWEIRD FORUMS TO FIND OUT WHAT HAPPENS NEXT!!!


Jack is a YouTube user who created his account on November 10, and posted his first video (Me...Jack) on November 19, 2007. He appears to be a typical teen male, with his first subscription listed as Daxflame. He also has a silly channel description on youtube of "PAAAANCAAAAAKESSS!", which refers to an obscure comedy video on youtube (where he made the same comment).


Puberty, bullies, and... teleportation???
---------------------------------
Jack's troubles began when his brother was arrested and kicked out of the school they both attend. Jack is prompted by his mother to see the school therapist, who in turn provides him medication to deal with his "depression." Jack then attracted the attention of a bully, who realized Jack's brother is no longer there to protect him. As Jack is being beat up, he blacks out and winds up in his bedroom with no knowledge of anything in between. Jack attributes this to a belief that he may have teleported. He quickly dismisses the idea. For a second time, Jack is assaulted by the bully and his friends. He explains that he closed his eyes and was suddenly back in his room, in I Need Help. He then decides to experiment with "teleportation exercises" found on the website, whatweird.com. Jack has since shown control over his newfound abilities and gets a "rush" sensation whenever he uses them.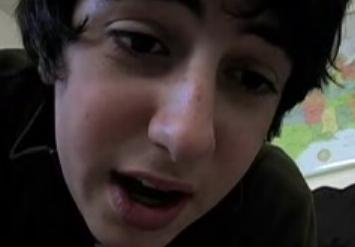 Canon Speculation
--------------
Jack is currently suspected to have been introduced as an official character on Lonelygirl15 in November 2007. While his first videos make no reference to Lonelygirl15, his videos were accepted as responses to lonelygirl15 videos on YouTube, and he soon happened upon the Whatweird.com website and mentioned it in a vlog, which in turn acknowledged his "shout out"

http://www.lg15.com/lgpedia/index.php?title=Watchyourjackn

LGpedia needs your HELP: Ways To Help

---

WatchYourJack was on the Whatweird discussion board earlier:

WatchYourJack
Post subject: Re: Introductions
Posted: Sun Jan 06, 2008 11:44 pm
Um hey everyone. It's me Jack. I decided tonight might be a good time for me to come on and meet you guys. I can't hang out here long because I kinda feel like I should keep an eye out the window. This is going to sound crazy but there is someone outside my house right now. Somebody's watching ...




NOTE: Yet again Jack was accepted by Lonelygirl15 on YouTube as a response video.. So, what is YOUR theory. Is Jack a new character, a spin off show, a side show, a "promo" for "whatweird.com"...........or something completely different. Let us know your thoughts in a comment below.