From INSIDE.LG15: http://inside.lg15.com/2008/03/28/creature-inc/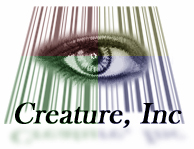 "Creature, INC., a new LG15 Community Series, is an Alternate Reality Interactive Web Series that centers around a world where our government has been essentially 'sold' to the most powerful and corrupt corporations of our time. Economic conditions resulted in a cataclysmic downward spiral of America to the point where corporate America was able to seize control of a goverment that had decayed close to the point of bankruptcy. Our civil rights are being slowly removed from us, our laws have become flexible to the will of those in power, and corporate sponsored mind control is on the verge of being instituted forcefully.
Creature, INC. takes place within The Coalition extended region of the Red Territory. Viewers and players of the series are encouraged to create characters of their own, and to participate in the series itself. Not only does their help support the Alternate Reality aspect of this series, it may in fact be crucial to the survival of the world itself.
The hour of revolution is at hand.
Which side will you choose?"
Creature, Inc
playlist on YouTube.
Creature, Inc
on LGPedia.
LGpedia
needs your HELP:
Ways To Help