"The response of British passengers — stiff gazes, nervous silence and tepid applause — was, naturally, videotaped and posted online, and it quickly spun off into zombie dance sequels at the central Copenhagen train station, in Chinatown in London and on the street outside the Sydney Opera House."

http://www.nytimes.com/2008/03/10/business/media/10adco.html?_r=3&scp=1&sq=thriller+michael+jackson&st=nyt&oref=slogin&oref=slogin&oref=slogin

""It's really guerrilla marketing," said Roger Menz, vice president for international strategic marketing for Sony BMG. "


Gavin Rowe previously worked as a director, editor, and writer for the webseries KateModern. He is a director with Bigballs Film, alongside Luke Taylor, and has worked in a variety of entertainment mediums. With the company, he has directed a commercial for Playstation 3, the short films As Fast As You Can and The Experiment, and music videos for Natasha Bedingfield, the Smashing Pumpkins, and McFly.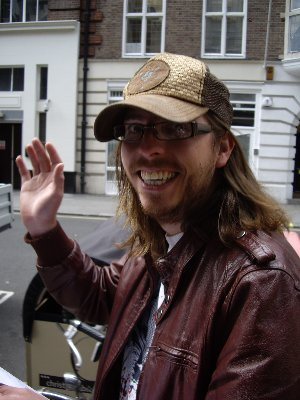 Since leaving KateModern, Gavin shot a number of spots for the software program Skype and has made content for Mark Ronson, Lupe Fiasco, Paulo Nutini, Simple Plan, James Blunt and The Kings of Leon. He was also one of the people responsible for Sony BMG's viral video to promote the 25th anniversary of Michael Jackson's "Thriller." Lately, he has been working on the web series Conquering Demons, a snowboarding documentary about the concept of fear.

Gavin_Rowe on LGPedia

LGpedia needs your HELP: Ways To Help