Two years ago today, May 12, 2006, the lonelygirl15 channel on youtube was created, and the lonelygirl15.com domain was registered.

Today:



One year ago:



July 19, 2006 (from a screengrab I have of Lonelygirl15 listed as #9 on the all time subscribed list at that time. #1 was Brookers, by the way.):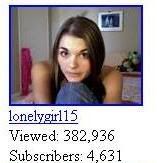 Bree's first video (though not a blog) was not posted until May 24, 2006, but "lonelygirl15" started posting comments on other videos before then, to try to begin to build a potential audience.