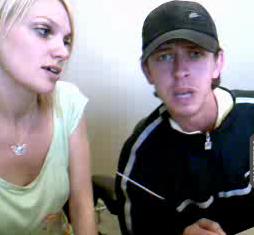 Toe and Sophie

Toe asked for girl users' phone numbers to which he did get some. A guest was trolling him and he offered for the guest to come down and fight him. He left right after stealing one of Sophie's bags.


Thanks to hopefulsemblance
Sophie hosted the chat again, this time with Toe. Not much plot development actually happened, Toe denied fancying Lauren, and flirted with Sophie, much to the hilarity of the chat room, with Toe asking which girls would marry him and which guys would have him in a fight. At the end, Toe left taking a carrier bag with an Apple logo on it to the annoyance of Sophie, before the video cut.
LGpedia
needs your HELP:
Ways To Help