I'm posting this on behalf of my good friend Ziola. Seems an impasse must be overcome.

"Hello my lovelies! Your favorite confuzzled bunny here, Ziola. Mistress Zi if you're not a good boy or girl.

You may have noticed my recent visit to Caracas didn't turn out quite as planned. At least not the way I had planned. What you may not be aware of are some of the events that occurred just prior to my leaving.

I like to hang out at the UnFiction forums because I can always use an extra brainiac to help me decipher the puzzles I come across. One day, out of the blue, I received a request to participate in a panel discussion about ARG's and LARP (Live Action Role Play) at an LARP conference in Chelmsford, MA on March 5. "Unusual" I thought, because as we all know, all of the adventures we go on are real. They happen in real-time, in real life. But hey, always looking for a new adventure, I said "Sure, I'll do it".

March 5: Off I go to the hotel where the conference is taking place. I have no friggin' idea what I'm gonna talk about but it's too late to back out now. I had reached out for help with this but no response. I am about to walk into the lion's den completely unarmed. This is not the best situation for Coalition Barbie to be in. At all.

Just fifteen minutes before I take my seat on the panel, I receive an email. It's from someone named unicornchaser. Who the hell is unicornchaser? I click the link and there's a code. My prayers have been answered! I go into the conference, talk about my experiences with the community and present the puzzle.

Well past my scheduled departure, we're still talking. The night is a resounding success! (Video coming soon). I head home and see that the puzzle is now online. I post a link to it at the UnFiction forums and now it sits. Unsolved.

Here's the puzzle:
Here
Larger version at UnFiction:
And Here

Please help.

~Mistress Z~"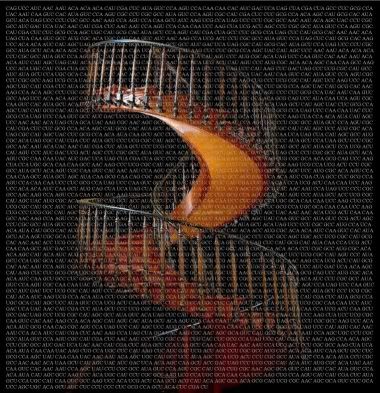 Double Helix

Visit theCoalition