::::: AIR FRANCE FLIGHT 447 -- BAF says fuel, debris, were found 800 km from Fernando de Noronha, near Sao Pedro and Sao Paulo Islands.. The Saint Peter and Saint Paul Islets, officially the Arquipélago de São Pedro e São Paulo, is an archipelago of the State of Pernambuco, in Brazil.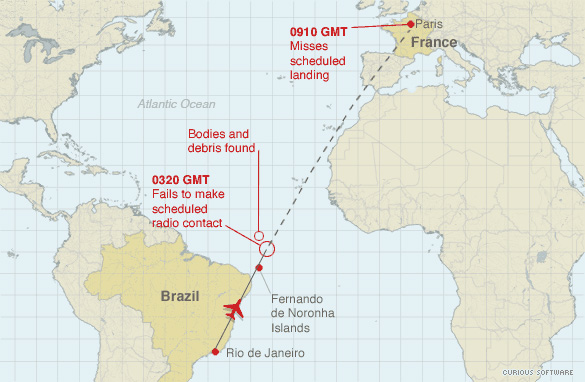 Air France regrets to confirm the disappearance of flight AF 447 flying from Rio de Janeiro to Paris-Charles de Gaulle, scheduled to arrive at 11:10am local time today, as announced to the press by Air France CEO, Pierre-Henri Gourgeon.
http://adjix.com/swww
Missing Air France jet 'hit by electric fault'
http://www.cnn.com/2009/WORLD/americas/06/01/air.france.brazil/index.html#cnnSTCOther1
::::: URGENT -- Air France says there is "no doubt" the missing Airbus carrying more than 200 passengers has crashed in the Atlantic: Track news on Twitter. Air France official says the whole airline is deeply touched and "shares the mourning of the families of the passengers."

http://twitter.com/BreakingNews/statuses/1990773655

AIR FRANCE FLIGHT 447 -- The Brazilian Air Force says that a TAM airliner flying from Europe
spotted "orange points" in the ocean.