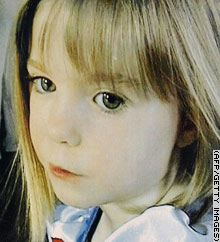 We first ran the story of Madeleine McCann when Jules was kidnapped because some European fans were concerned about the unfortunate timing. Here is and update:

"An anonymous letter claiming 4-year-old Madeleine McCann's body is buried under rocks in deserted scrubland was sent to newspaper De Telegraaf and passed on to the Portuguese Policia Judiciaria."

http://www.cnn.com/2007/WORLD/europe/06/13/missing.mccann/index.html

Research: Thanks to Killthesmiley for the link.