Can you believe it? It was four years ago today, on May 12, 2006, that the Lonelygirl15 account was created on Youtube, and the domain lonelygirl15.com was anonymously registered.

These events are becoming real history now--they aren't last month's gossip anymore.

Yet, the immense impact that Lonelygirl15 had on the internet has never really been written about. At least not in the way that longtime readers of this website know it.

Bree launched a new industry that had sky-high hopes and spawned great experimentation in web video. Whole networks for web video were launched, thousands of webseries were created, talent agencies and web-talent divisions were created. Deals were struck left and right between social media sites, networks, music companies, you name it. Even websites covering web video and web video award shows appeared. Hundreds of panel discussions and conferences have been held about web video, and that's just counting the ones that included someone from the lonelygirl15 team. Vibrant online communities were created that revolved simply around being the audience for web video, and interacting and creating in return.

And hundreds of later-famous vloggers were inspired by Bree, even if many of them wouldn't readily admit it. But the 16-year-olds of today are watching them, and being inspired in turn.

And many millions were made and lost. Even mega-millions: Via KateModern, lonelygirl15 made a so-so website known as Bebo look so cutting edge that a desparate-to-be-relevant AOL spent $850 million in CASH to acquire it.

And sitting here on May 12, 2010, after the Creators mercifully admitted last month that Lonelygirl15 is kaput, we know that making sustained money on a webseries is next to impossible. Any one that tells you different is either wishing, lying, or Felicia Day.

But the original spark of lonelygirl15, before the money got involved (because we all need to eat), was about entertainment, and about interaction and creativity, and about being new and groundbreaking. Which is why, when there is "another lonelygirl15"--it won't look anything like lonelygirl15. But it will generate that same special feeling of excitement and true awe that is, in my experience, very rare.

And if you find it first, please let me know.

One year ago:



Two years ago:



Three years ago: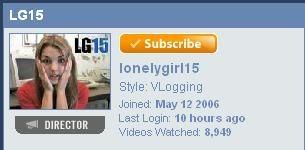 Summer 2006: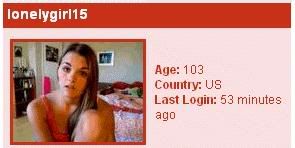 See all This Day in Lg15 History posts.